Image

The Ultimate Solution for Rodent Infestations
Rodent Control in the DC Metro Area
Tired of sharing your home with unwelcome, furry intruders? Discover the ultimate solution with Century Termite & Pest Control, your trusted local rodent control company. Our team of experts is dedicated to helping you get rid of mice and rats and enjoy a rodent-free home environment. 
Our rodent control services in the DC Metro Area include:
Roof rats
Norway rats/brown rats
House mice
Deer mice
And more
Trust Century Termite & Pest Control to handle your rodent problems, so you can enjoy peace of mind and a healthier living environment. 
Say Goodbye to Rodents with Century's Rodent Removal Services
At Century Termite & Pest Control, we understand the importance of a rodent-free home for your family and pets. Our comprehensive rodent control service offers you peace of mind and a rodent-free living environment.
Here's what you can expect when you choose us:
Thorough Rodent Inspection: Our experienced exterminators will conduct a meticulous rodent inspection to identify the source and extent of the infestation.
Tailored Rodent Removal Service: We customize our solutions to your specific needs. Our methods include rodent baiting, mechanical traps, and seal-ups for efficient removal.
Expert Exclusion and Restoration: If the problem has escalated, our specialists perform complete crawlspace, basement, or attic restoration to ensure a clean and safe environment.
Family-Friendly Treatments: We prioritize the safety of your family and pets. Our treatments are designed to be effective yet gentle.
100% Satisfaction Guarantee: Your satisfaction is our top priority. We stand by our service and guarantee your complete satisfaction.
Choose Century Termite & Pest Control for the best rodent control service in the DC Metro Area. Contact us today at 703-904-1813 to schedule your inspection and take the first step toward a rodent-free environment.
The Dangers of Rodents - Protect Your Loved Ones
Having rodents in your home is not only a nuisance but also a serious threat to your health and property. These pests can bring about a range of dangers that can affect both your well-being and the integrity of your living space.
Here's why having rodents in your home is a concern:
Disease Transmission: Rodents such as rats, mice, and squirrels are known carriers of various diseases, including Hantavirus, Salmonella, and Leptospirosis. Their droppings, urine, and saliva can contaminate surfaces, food, and air, posing a significant health risk to you and your family.

Allergens and Asthma Triggers: Rodent droppings and dander can trigger allergies and exacerbate asthma symptoms, particularly in children and those with respiratory issues.

Property Damage: Rodents have a natural tendency to gnaw on objects to keep their teeth from overgrowing. This habit can lead to structural damage as they chew through wiring, insulation, wood, and even pipes, increasing the risk of fires, water leaks, and costly repairs.

Contaminated Food: Rodents can easily access and contaminate your stored food, spreading bacteria and disease. Even sealed containers are not always safe from their persistent efforts.

Reproduction Rate: Rodents reproduce rapidly, leading to exponential infestation growth if left unchecked. A small rodent issue can quickly turn into a major problem.

Odor and Filth: The presence of rodents is often accompanied by foul odors from their urine and droppings. This can create an unpleasant living environment.
Protect your health and home by addressing rodent issues promptly. If you suspect a rodent problem, seek professional assistance to ensure effective removal and prevention measures. Remember, a rodent-free home is a safer, healthier, and more comfortable environment for you and your loved ones.
Signs of a Rodent Infestation
There are subtle signs that may indicate a rodent infestation in your home. These sneaky critters leave behind clues that can't be ignored. Here's what to look out for:
Signs of a rodent infestation:
Droppings: These little pellets are a surefire sign that rodents are scurrying around.
Chewed wires: Rodents love to gnaw on electrical wires, causing potential hazards.
Gnaw marks: Look for chewed-up wood, plastic, or even furniture legs.
Grease marks: Rodents have oily fur, so you might spot dark smudges along their usual pathways.
Nesting materials: If you find shredded paper, fabric, or insulation, it may indicate a rodent nest nearby.
Strange noises: Hearing scratching, scampering, or squeaking sounds at night? It's likely rodents on the move.
Remember, prevention is key. Seal any cracks or openings in walls, keep food properly stored, and maintain a clean living space. That said, if you notice any of these signs, it's best to call a professional. Century Termite & Pest Control is here to help! Call today at 703-904-1813 to schedule your inspection.
Image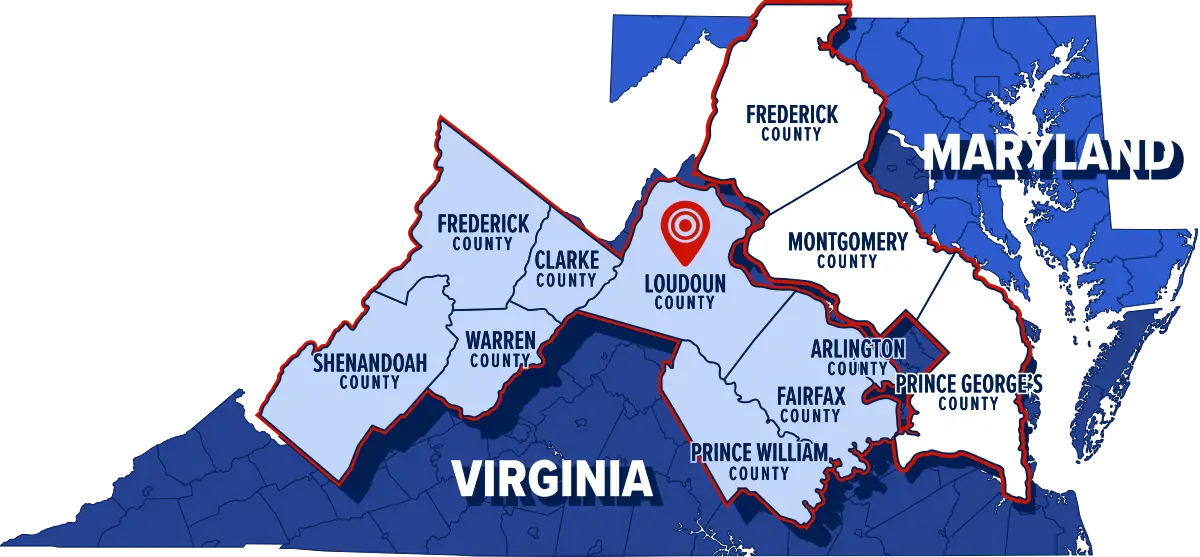 Areas We Service
As a locally owned pest control company in the DC metro area, we've proudly treated over 30,000 homes since 1993. When you partner with us, you're guaranteed a pest-free home in no time. To see if we service your specific city, check out our local Virginia and Maryland service area pages: