Image

DC's Leading Wildlife Removal Specialist
Wildlife Removal in the DC Metro Area
With 30 years of experience, we are your trusted partner in safeguarding your home from common wildlife. Our comprehensive inspection and removal techniques will leave you unworried about unwanted critters in your home and your family safe.
We specialize in handling:
Squirrels

Raccoons

Opossums

Birds
With our cutting-edge techniques, rest assured that our wildlife removal experts will skillfully employ the best strategies to eliminate these wildlife from your home and yard. 
Our Wildlife Removal Process
With Century Termite & Pest Control, your home will be wildlife-free in no time with our expert critter removal service. Here's what you can expect:
Thorough Wildlife Inspection: Our process begins with a meticulous inspection to understand your wildlife intrusion issue. We'll pinpoint the source of the problem, ensuring nothing is overlooked.
Comprehensive Wildlife Removal: Our exterminators will efficiently tackle birds, squirrels, raccoons, and opossums. We'll eliminate the nuisance, focusing on providing family-friendly treatments safe for both your loved ones and pets.
Attic Restoration Expertise: We remove excrement and install new insulation during wildlife removal. Our experts will not only get rid of adult wildlife and eliminate their nesting, but they also handle excrement removal and insulation installation, restoring your home's comfort.
Trust Century for wildlife removal because of our 30 years of proven expertise, dedicated professionals, and unwavering commitment to providing safe, effective, and humane solutions for your home. Give us a call today at 703-904-1813 to schedule your inspection!
Have Questions? Give us a Call
Most Common Places for Wildlife to Hide
Discovering wildlife in your home can be unsettling, but knowing where to look can help you address the issue effectively. Here are common areas where wildlife may take refuge:
Attics: Warm and secluded, attics are inviting spaces for critters to nest and reproduce.
Basements/Crawl Spaces: Dark, damp areas often attract wildlife seeking shelter.
Chimneys: Birds, squirrels, or raccoons might use chimneys as nests.
Roof Eaves: Small openings provide cozy spots for animals to hide.
Garages/Sheds: Cluttered spaces offer hiding spots for rodents and insects.
Vents: Birds or rodents can enter through damaged vents.
Under Decks/Porches: Undisturbed areas are ideal for burrowing creatures.
Gutters/Drains: Leaves and debris can create nesting sites.
Fruit Trees: Fallen fruits attract wildlife close to your home, specifically opossums.
Count on Century Termite & Pest Control's professionals to identify these hiding spots and provide effective wildlife removal solutions. With 30 years of experience, we ensure your home is a safe and comfortable space for you and your family.
Signs of a Wildlife Infestation
Recognizing signs of a wildlife infestation is crucial to addressing the issue promptly. Here are key indicators to watch for:
Strange Noises: Unusual scratching, scurrying, or chirping sounds can suggest hidden critters.
Foul Odors: Strong, unpleasant smells might indicate animal waste accumulation.
Damaged Entry Points: Chewed wires, torn screens, or holes in walls can signal wildlife activity.
Nesting Materials: Finding twigs, leaves, or paper in odd places can signify nesting.
Visible Droppings: Excrement in specific areas is a clear indication of infestation.
Gnaw Marks: Teeth marks on furniture, wires, or structures suggest rodents.
Paw Prints or Tracks: Mud or dirt trails with paw prints point to unwelcome guests.
Disturbed Plants/Soil: Uprooted plants or dug-up soil may indicate burrowing animals.
Unexplained Pet Behavior: Dogs or cats acting anxious or excited might sense intruders.
If you notice these signs, rely on Century Termite & Pest Control's expertise. We'll swiftly identify and address the infestation, ensuring your home is critter-free and comfortable. Call 703-904-1813 to schedule your inspection!
Image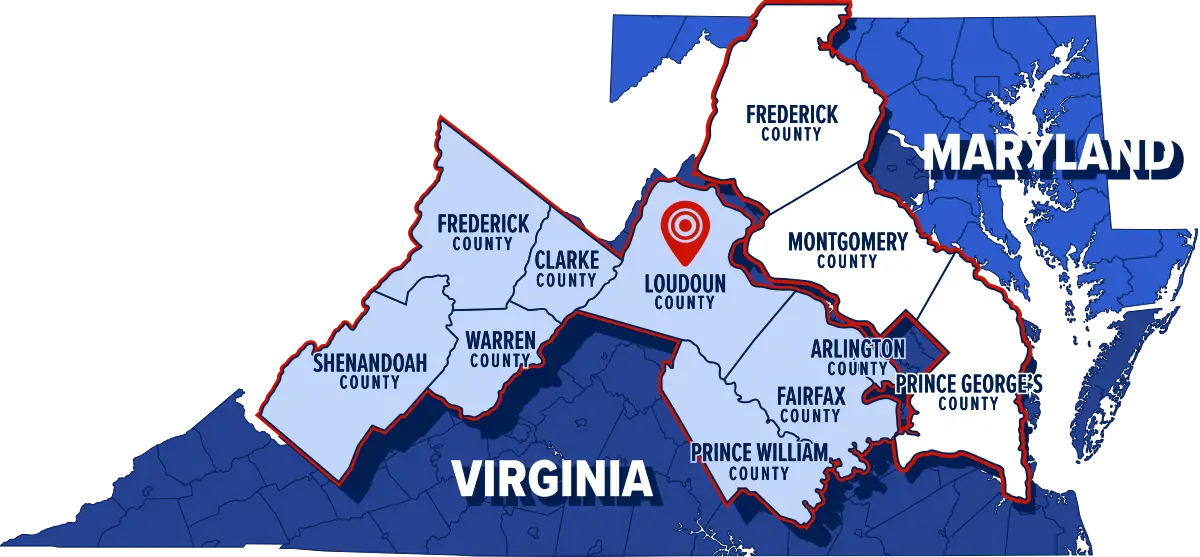 Areas We Service
As a locally owned pest control company in the DC metro area, we've proudly treated over 30,000 homes since 1993. When you partner with us, you're guaranteed a pest-free home in no time. To see if we service your specific city, check out our local Virginia and Maryland service area pages: