Image

Your Trusted DC Metro Area Pest Control Experts
Pest Control in the DC Metro Area
When it comes to pest control in the DC Metro Area, Century Termite & Pest Control has over 30 of experience in dealing with all kinds of common household pests. Our team of expert exterminators is trained to handle even the toughest infestations. We offer a comprehensive range of pest control services, including pest inspection, general pest control, and targeted treatments for specific pests. Let us help you get rid of those pesky invaders once and for all.
Our pest control service covers:
Ants
Bees
Spiders
Crickets
Centipedes
Earwigs
Silverfish
Cockroaches
Stink bugs
Beetles
And much more
Sign up for our pest control services today and experience the peace of mind that comes with a pest-free home. Our team of professionals is dedicated to providing excellent customer service and ensuring your 100% satisfaction. 
Your Local Pest Control Company
Discover peace of mind with Century Termite & Pest Control, backed by 30 years of experience. Our hassle-free process starts with a simple call to schedule your pest inspection. Our local pest control service ensures we prevent pests from invading your home.
Here's what to expect:
Thorough Pest Inspection: Our skilled exterminators will visit your home to perform a comprehensive assessment tailored to your needs.
Customized Solutions: Based on the inspection, we recommend custom-tailored services to target the pests bothering you.
Flexible Packages: Choose from monthly, bimonthly, or quarterly plans. We also offer one-time treatments with a 30-day warranty.
Family-Friendly Treatments: Our expert exterminators use family-safe methods, ensuring the well-being of your loved ones and pets.
Same-Day Services: Experience the convenience of same-day service, so you can quickly regain control of your home.
100% Satisfaction Guarantee: We're confident in our abilities to deliver results. If pests return, so do we.
With our expertise and commitment to quality, you can rely on us to keep your home pest-free. We understand the importance of a safe and comfortable living environment for your family, and our goal is to provide effective solutions that meet your expectations.
Why Trust Century - Our 100% Guarantee
When you choose Century Termite & Pest Control as your trusted local pest control service in the DC Metro Area, you choose a pest control company with over 120 years of combined experience among our team members. We take pride in our ability to deliver exceptional results, which is why we offer a 100% satisfaction guarantee on our services. Depending on your treatment plan, we offer 30-day warranties which include re-treatments, all the way up to lifetime guarantees. Additionally, with our same-day service and a commitment to preventing pests, our experienced exterminators ensure your family's comfort and well-being. 
Join our Century Termite & Pest Control family, and let us keep your home pest-free. Call today at 703-904-1813 to schedule your inspection!
Image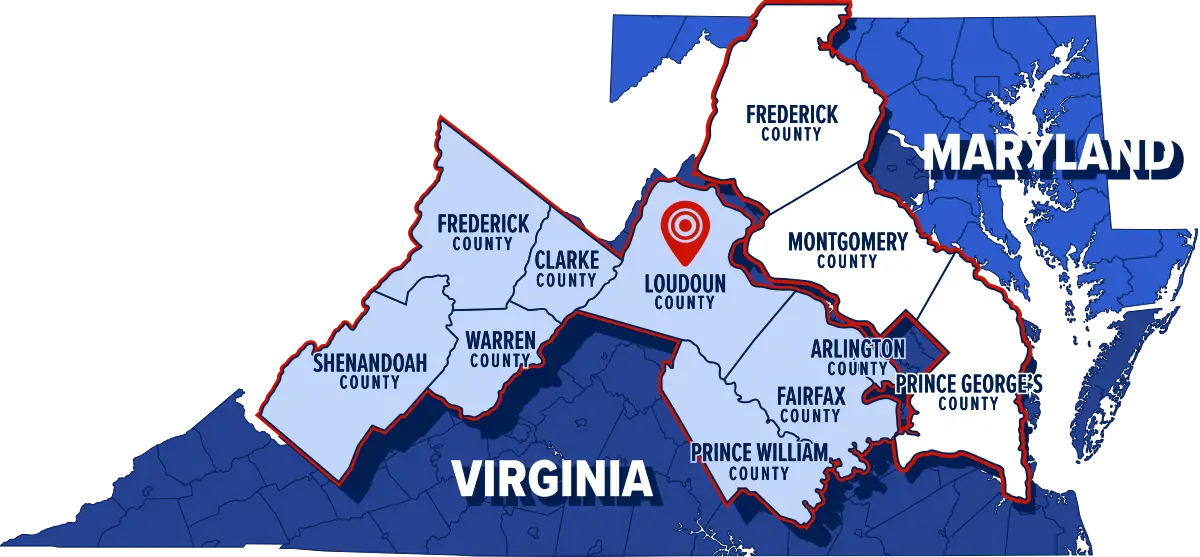 Areas We Service
As a locally owned pest control company in the DC metro area, we've proudly treated over 30,000 homes since 1993. When you partner with us, you're guaranteed a pest-free home in no time. To see if we service your specific city, check out our local Virginia and Maryland service area pages: