Image
The Best Local Pest Control Company in Herndon
Pest Control in Herndon
Living in Herndon, you may be familiar with the challenges that our climate brings when it comes to pests. The warm and humid weather creates the perfect breeding ground for bugs, making it essential to have a reliable pest control service on your side.
At Century Termite & Pest Control, we offer a wide range of pest control services to address all your needs. Here are some of the services we provide:
Residential Pest Control: Our expert exterminators will eliminate common household pests, such as ants, spiders, and cockroaches, ensuring your home is pest-free.
Rodent Control: We specialize in removing and preventing rodents from invading your home, keeping your family safe from diseases and property damage.
Termite Control: Termites can cause significant damage to your home. Our termite treatments will protect your property and give you peace of mind.
Bed Bug Control: Don't let bed bugs disrupt your sleep. Our effective treatments will eliminate these pests and prevent future infestations.
Wildlife Removal: If you're dealing with unwanted wildlife on your property, our humane removal services will safely relocate them without harm.
Stinging Insect Control: Bees, wasps, and hornets can be a threat to your family's safety. Our experts will remove their nests and prevent them from returning.
Why Choose Century?
With Century Termite & Pest Control, you can expect same-day service, family-friendly treatments, and a 100% satisfaction guarantee. Trust in us our 30 years of experience to handle all your pest control needs. 
Image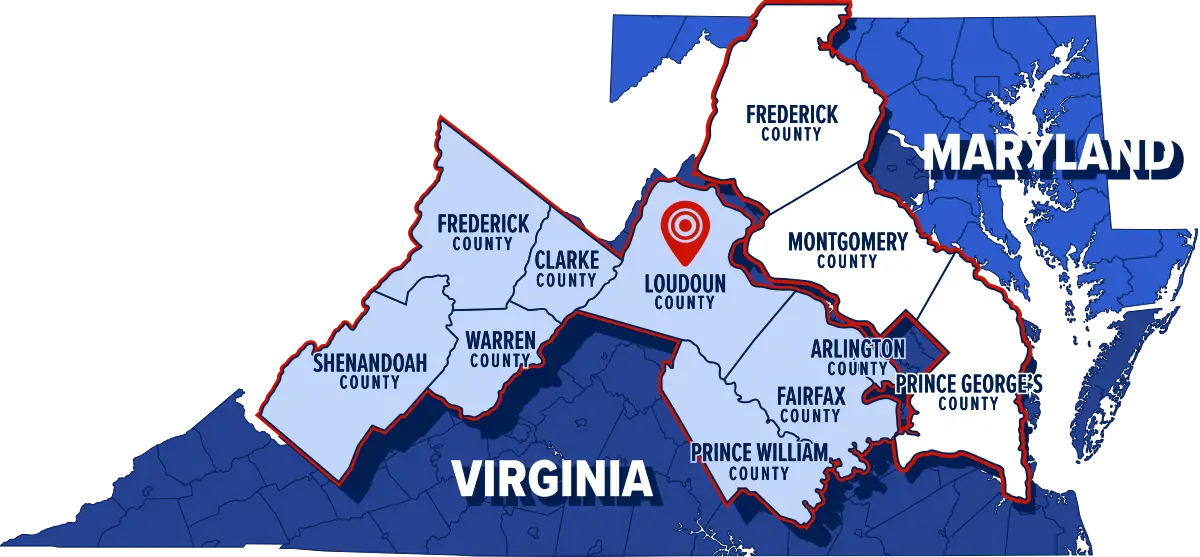 Family-Friendly Pest Control Services
Experience swift, efficient same-day residential pest control in Herndon with Century Termite & Pest Control. Our dedicated team of exterminators is equipped to handle a range of common household pests, ensuring a pest-free haven for your family and pets. Additionally, we also offer flexible packages with 30-day warranties for free re-treatments, family-friendly treatments, and same-day service options. 
Our pest control in Herndon includes coverage from:
Ants
Roaches
Spiders
Silverfish
Fleas
Mosquitoes
Bees
Centipedes
Earwigs
Cockroaches
Stink Bugs
Beetles
Wasp, hornet, and bee nests up to 40 ft
And More
At Century Termite & Pest Control, we understand the importance of a safe and comfortable living environment for your family. Our goal is to provide effective solutions that meet your expectations. Choose us for general pest control in Herndon and let us take care of those unwanted guests for you.
Termite Exterminator in Herndon
As a homeowner in Herndon, you know all too well the challenges that come with living in a humid climate. One of those challenges is the constant threat of termite infestations. But fear not, because we are here to help. Our termite control service in Herndon has over 30 years of experience in dealing with these pesky critters.
Our termite treatment includes:
Family-and-Pet-Friendly Termite Treatments: Protect your loved ones while eliminating termites.
Ongoing Termite Control: Herndon's humid climate demands consistent monitoring.
Behr Advanced Baiting System: Innovative bait stations lure termites away discreetly.
Termidor HE: Experience the gold standard in termite protection, reaching deep to eradicate termites.
Conventional Liquid Treatments: Expertly applied liquid treatments fortify your home's foundation.
With our thorough termite inspections, we identify even the smallest infestations using advanced technology. Rely on the experts at Century Termite & Pest Control for unrivaled termite control and ongoing monitoring in Herndon.
Bed Bug Exterminator in Herndon
Say goodbye to sleepless nights and hello to a bed bug-free home with our trusted bed bug control service in Herndon. With over 30 years of experience, Century Termite & Pest Control is your go-to bed bug exterminator. Rest easy with our efficient, family-friendly treatments that include:
Thorough Bed Bug Inspection: Our skilled bed bug exterminators assess the extent of the infestation for targeted treatment.
Family-Friendly Approach: Your loved ones and pets are safe with all of our treatment options.
High-Intensity Heat Treatment: Choose our heat and chemical residual treatment for effective, eco-friendly results.
90-Day Warranty: Enjoy peace of mind with our extended warranty, guarding against unexpected bed bug comebacks.
If you notice signs of a bed bug infestation, such as itchy bites, bloodstains on sheets, dark spots on your mattress, or a musty odor, make sure to contact our experienced bed bug exterminators in Herndon today and sleep soundly once again.
Rodent Control in Herndon
Are you dealing with a rodent problem in your home? Look no further than Century Termite & Pest Control for effective rodent control services. Our experienced rodent exterminators specialize in eliminating rats and mice to ensure a rodent-free environment for you and your family. Here's what sets us apart:
Free Rodent Inspection: Our experts will perform a thorough inspection of your property to identify the source and extent of the infestation. This helps us tailor our solutions to your specific needs.
Exterior Rodent Baiting: We strategically place rodent baits around the exterior of your home to target and eliminate rats and mice. This ongoing service helps prevent future infestations.
Interior Trapping: For more stubborn infestations, we use mechanical traps to capture and remove rodents from your home. Our experts will ensure a safe and effective removal process.
Rodent Exclusion: To prevent rodents from reentering your home, we perform exclusion techniques to seal off entry points and secure your property. This helps maintain a rodent-free environment in the long run.
Rodents can be dangerous if found in your home. They carry diseases, contaminate food, and cause damage to your property. Some signs of a rodent infestation include droppings, gnaw marks, chewed wires, and strange noises in the walls. Don't let rodents take over your home. Trust Century Termite & Pest Control as your reliable rodent exterminator in Herndon. Our comprehensive rodent control service will get rid of rats and mice, ensuring a healthier living environment for you and your loved ones. 
Wildlife Removal in Herndon 
Are you tired of dealing with wildlife intrusions in your home? Look no further! Our wildlife removal service in Herndon is here to provide you with top-notch solutions to eliminate squirrels, raccoons, opossums, and birds from your property. With our wildlife control service, you can expect ongoing support to prevent future infestations and ensure a wildlife-free environment for your family.
Here's what our wildlife removal service in Herndon offers:
Thorough Wildlife Inspection: Our experts will conduct a meticulous inspection of your property to identify the source of the wildlife intrusion. No corner will be overlooked, ensuring effective removal and prevention strategies.
Comprehensive Wildlife Removal: We specialize in humane trapping and removal of squirrels, raccoons, opossums, and birds. Our skilled technicians will handle the process with care, ensuring the safety of your loved ones and pets.
Exclusion Techniques: To prevent wildlife from re-entering your home, we employ exclusion techniques that seal off potential entry points. Say goodbye to unwanted guests once and for all!
Bird Removal: Birds can create havoc in your home, damaging property and leaving behind droppings. Our experts will safely remove them and implement measures to deter their return.
Opossum Removal: Opossums may seem harmless, but they can cause significant damage to your property and spread diseases. Trust our professionals to safely capture and remove these critters.
Squirrel Removal: Squirrels can chew through electrical wires and create a mess in your attic. Let us handle the removal process efficiently and restore your peace of mind.
Raccoon Removal: Raccoons are known for their cleverness and can be a real nuisance. Our team will safely trap and remove them, ensuring they don't return to cause further trouble.
Attic Restoration: Wildlife infestations often leave behind excrement and damage your insulation. Our experts will not only eliminate nests and adult wildlife but also restore your attic's comfort by removing excrement and installing new insulation.
Don't let wildlife take over your home. Trust our years of proven expertise, dedicated professionals, and unwavering commitment to providing safe and effective solutions. Schedule your wildlife inspection today by calling 703-904-1813.