Image
The Best Local Pest Control Company in Arlington
Pest Control in Arlington, VA
Arlington's climate can be a breeding ground for various pests, but we've got you covered. With over 30 years of experience, our team of expert exterminators is committed to delivering top-notch solutions to keep your home pest-free.
Our comprehensive pest control services include:
Residential Pest Control
Rodent Control
Termite Control
Bed Bug Control
Wildlife Removal
Stinging Insect Control
And More
Count on Century Termite & Pest Control for same-day service, family-friendly treatments, and our 100% satisfaction guarantee. Call today to get your free inspection!
Services We Provide in Your Area
Image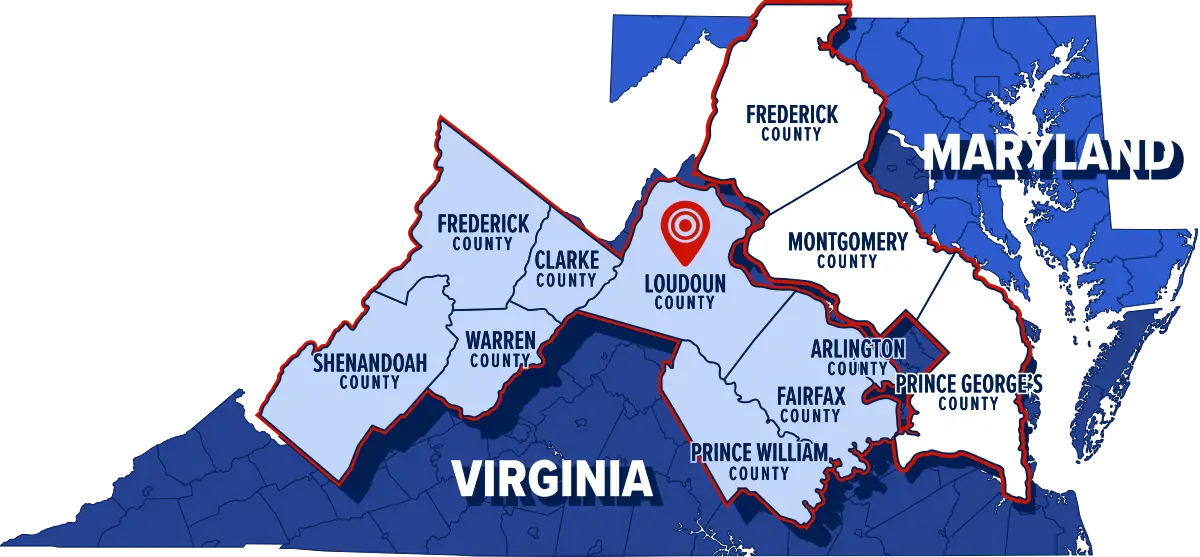 Home Pest Control Services in Arlington, VA
Experience thorough and effective pest control solutions with Century Termite & Pest Control. Our skilled exterminators are equipped to tackle a wide range of common household pests, ensuring your family and pets are safe.
Our pest control covers: 
Ants
Roaches
Spiders
Silverfish
Fleas
Mosquitoes
Bees
Wasps
Hornets
Centipedes
Earwigs
Cockroaches
Stink Bugs
Beetles
And more!
Why Choose Century?
With over 30 years of experience, we've treated over 30,000 homes. This means you can trust our skilled exterminators to make sure your home is pest-free in no time.
When you partner with us for pest control in Arlington, you can expect:
Thorough Pest Inspection: Our skilled exterminators perform tailored assessments.
Customized Solutions: Get personalized treatments for common household pests.
Flexible Packages: Choose monthly, bimonthly, quarterly plans, or one-time treatments with a 30-day warranty.
Family-Friendly Treatments: Our experts prioritize safety for loved ones and pets.
Same-Day Services: Regain control with our convenient same-day service.
100% Satisfaction Guarantee: We back our quality with re-treatments and lifetime guarantees.
Termite Exterminator in Arlington, VA
Our termite control services in Arlington, VA offer a comprehensive range of solutions to protect your home from termite infestations. With over 30 years of experience, we are the trusted termite exterminator in Arlington, providing effective and reliable termite control services.
Our termite treatment includes:
Thorough Inspections: Highly trained technicians utilize advanced technology to detect even the smallest termite infestations.
Family-and-Pet-Friendly: Our treatments prioritize safety for your loved ones while effectively eliminating termites.
Behr Advanced Baiting System: Innovative bait stations strategically lure termites away, discreetly protecting your sanctuary.
Termidor HE: Experience the gold standard in termite protection, with advanced technology reaching further to secure your residence.
Conventional Liquid Treatments: Expertly applied liquid treatments create an impenetrable shield against termite invasions, preserving your home's foundation.
Bed Bug Exterminator in Arlington, VA
Eliminate bed bugs from your home with confidence, thanks to our experienced local bed bug control service with over 30 years of expertise. Enjoy peaceful nights and a bed bug-free environment through our efficient and family-friendly treatments.
Our comprehensive bed bug control includes:
Thorough Bed Bug Inspection: Expert assessment tailored to your infestation level.
Customized Treatment Plans: Safe and effective heat or chemical residual treatments.
Efficient Same-Day Service: Urgent bed bug problems addressed promptly.
Family-Friendly Approach: Target bed bugs, minimize impact on loved ones and pets.
Step-by-Step Guidance: Preparedness sheet ensures effective treatment.
Follow-Up Inspections: Ensuring complete bed bug elimination with a 2-week follow-up.
Generous 90-Day Warranty: Extra protection against unexpected resurgence.
100% Satisfaction Guarantee: Our mission is your satisfaction and a bed bug-free space.
Safeguard your health by getting rid of bed bugs promptly. Recognize signs of bed bugs like bites, shed skins, and bloodstains, and if you notice them, give us a call at 703-904-1813 today to schedule your inspection and get started!
Rodent Control in Arlington, VA
With over several decades of expertise, Century Termite & Pest Control is your trusted partner in effective rodent control and removal across in Arlington. Count on us to eliminate common rodents and ensure a healthier living environment.
Our rodent control services cover:
Free Rodent Inspection: Thorough assessment of infestation extent.
Exterior Rodent Baiting: Targeting rodents at their sources.
Interior Trapping: Efficient removal methods for a safer home.
Expert Exclusion: Complete restoration for clean and secure spaces.
Why Rodents Matter: Rodents can damage property and transmit diseases.
Signs of Infestation: Look for droppings, gnaw marks, and unusual pet behavior.
Choose Century Termite & Pest Control as your dedicated rodent exterminator in Arlington for a rodent-free home. Contact us at 703-904-1813 to schedule your inspection and keep mice and rats out of your home!
Wildlife Removal in Arlington, VA
Eliminate wildlife nuisances from your home with our expert critter removal service. With Century Termite & Pest Control, expect thorough solutions and a wildlife-free environment.
Our specialized wildlife removal service in Arlington covers:
Squirrels, Raccoons, Opossums, Birds: Effective removal of common intruders.
Cutting-Edge Techniques: Skilled experts employ advanced strategies.
Thorough Wildlife Inspection: Pinpointing intrusion sources for efficient removal.
Comprehensive Wildlife Removal: Elimination of birds, squirrels, raccoons, and opossums.
Family-Friendly Treatments: Ensuring safety for your loved ones and pets.
Attic Restoration: Removal of excrement, insulation installation, and nest removal.
Trustworthy Expertise: Proven solutions backed by 30 years of experience.
Common areas wildlife can infiltrate include attics, basements, and crawlspaces. Recognize signs like noises, droppings, and damaged property. Choose Century Termite & Pest Control for humane wildlife removal in Arlington. Contact us at 703-904-1813 to schedule your inspection and regain a peaceful living space.