Image
The Best Local Pest Control Company in Sterling
Pest Control in Sterling
In Sterling, Virginia, our climate creates the perfect breeding ground for pests. But don't worry, Century Termite & Pest Control is here to save the day! As the leading local pest control service in Sterling, we have been providing top-notch extermination services for 30 years.
We offer a wide range of pest control services to cater to all your needs. Our pest control services include:
Residential Pest Control
Rodent Control
Termite Control
Bed Bug Control
Wildlife Removal
Stinging Insect Control
Choose Century Termite & Pest Control for our same-day service, family-friendly treatments, and our 100% satisfaction guarantee. 
Your Satisfaction is Guaranteed
We understand not wanting to spend money on a service that may not be able to solve your problems. While we're confident in our abilities to deliver results, we always back our treatments with a service guarantee. All of our services include free re-treatments up to a certain date. Depending on the pest we treat, it may be a 30-day warranty or annual with the option to renew each year. Our exterminators will give you more details about which warranty your service includes and what they recommend for ongoing prevention. 
Services We Provide in Your Area
Image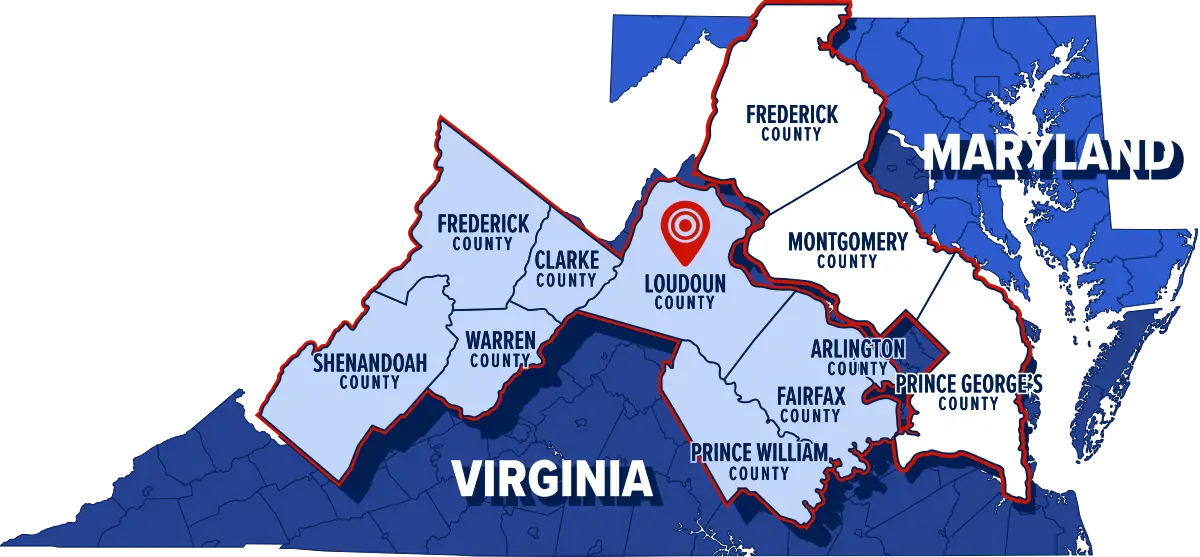 Keep Your Home Free of Pests
Experience the convenience of same-day pest control in Sterling. Our skilled exterminators will visit your home to perform a thorough pest inspection tailored to your needs. Based on the inspection, we recommend customized solutions to target the common household pests that bother you. Choose from our flexible packages, including monthly, bimonthly, or quarterly plans. We also offer one-time treatments with a 30-day warranty.
Here's what our pest control service in Sterling covers:
Ants
Roaches
Spiders
Silverfish
Fleas
Mosquitoes
Bees
Centipedes
Earwigs
Cockroaches
Stink bugs
Beetles
Wasp, hornet, and bee nests up to 40 ft
And more
Choose Century Termite & Pest Control for general pest control and trust our experienced team to get rid of these pests and more. With over 120 years of combined experience, we guarantee 100% satisfaction and a pest-free home.
Termite Exterminator in Sterling
Our termite control service in Sterling, VA offers a range of solutions to protect your home from these destructive pests. With over 30 years of experience, our team of highly trained technicians is equipped to handle any termite infestation. Here's what sets us apart:
Family-and-Pet-Friendly Treatments: Protect your loved ones without sacrificing their well-being. Our gentle yet effective treatments ensure a worry-free environment.
Ongoing Termite Control: With Sterling's humid climate, monitoring is crucial. Our experienced termite exterminators will keep a close eye on your property to prevent infestations.
Comprehensive Inspections: Our highly trained technicians will conduct thorough inspections, using advanced technology to detect even the tiniest signs of termite activity.
Termidor HE: Our Termidor HE treatment eradicates termites and secures your residence with its advanced technology.
Behr Advanced Baiting System: Lure termites away from your sanctuary with our innovative bait stations, strategically placed and hidden from curious eyes.
Liquid Treatments: Our expertly applied liquid treatments create an impenetrable shield, preserving the foundation of your home.
Warranty Options: No matter if you choose Termidor, baiting, or liquid treatments, your treatments are guaranteed for at least one year. You also have the option to purchase ongoing annual warranties!
Don't let termites take over your home. Choose our trusted termite control service in Sterling, and get rid of these destructive pests for good.
Bed Bug Exterminator in Sterling
Our local bed bug control service in Sterling is here to help you get rid of bed bugs and finally get a good night's sleep. With our years of experience, you can trust us to eliminate these pests and provide you with a bed bug-free home.
Here's what sets our bed bug control service apart:
Thorough Bed Bug Inspection: Our skilled exterminators will start by conducting a thorough inspection of your home to determine the extent of the infestation. This allows us to tailor our treatment plan specifically to your needs.
Family-Friendly Bed Bug Treatments: We understand the importance of keeping your loved ones and pets safe. That's why our treatments are designed to be effective against bed bugs while minimizing any impact on your family's health.
High-Intensity Heat Treatment: For the most efficient and effective results, we offer high-intensity heat treatment. This method uses heat to eliminate bed bugs and their eggs, ensuring a complete eradication.
90-Day Warranty: We stand behind the quality of our work. That's why we offer a generous 90-day warranty, giving you peace of mind knowing that we'll take care of any unexpected bed bug resurgence.
When it comes to protecting your health, getting rid of these pests is crucial. Bed bugs can cause allergic reactions and skin irritations, and their bites can be itchy and uncomfortable. If you're experiencing any of these symptoms—or if you see signs of bed bugs such as small red bites on your arms or legs, or dark spots on your sheets, or if you smell a musty odor—it's important to take action. Call 703-904-1813 today to schedule your inspection and get started!
Rodent Control in Sterling
Looking for a reliable rodent removal service in Sterling? Look no further than Century Termite & Pest Control. With our 30 years of experience and expertise, we are your trusted rodent exterminators. Here's why you should choose us:
Free Rodent Inspection: Our experts will conduct a thorough inspection of your property to identify any signs of a rodent infestation.
Exterior Rodent Baiting: We use effective baiting techniques to target and eliminate rats and mice from the exterior of your home.
Interior Trapping: For a comprehensive solution, we employ interior trapping methods to catch and remove rodents from your living spaces.
Rodent Exclusion: Our ongoing rodent control service includes exclusion measures to prevent future infestations. We seal up entry points and ensure your home is rodent-proof.
Why is rodent control important? Having rodents in your home can be dangerous. They can contaminate food, damage property, and spread diseases. So if you notice signs of a rodent infestation, such as droppings, gnaw marks, strange noises, and a musty odor, it's important to call a professional such as Century.
Wildlife Removal in Sterling
Living in Sterling, it's no surprise that wildlife can become a nuisance in your home and yard all year round. But don't fret, because our wildlife removal service in Sterling is here to help! With our cutting-edge techniques and dedicated professionals, we specialize in handling squirrels, raccoons, opossums, and birds.
Here's what you can expect from our wildlife control service:
Thorough Wildlife Inspection: Our experts will conduct a meticulous inspection of your property to pinpoint the source of the wildlife intrusion. No nook or cranny will be overlooked, ensuring a comprehensive solution.
Comprehensive Wildlife Removal: We will skillfully eliminate squirrels, raccoons, opossums, and birds from your home and yard. Our humane trapping methods ensure the safety of both your loved ones and pets.
Ongoing Preventive Measures: We don't just get rid of the critters, we also focus on preventing future infestations. Our exclusion techniques will ensure that wildlife stays out for good.
Attic Restoration Expertise: If wildlife has made its way into your attic, we've got you covered. Our experts will remove their nests, handle excrement removal, and even install new insulation, restoring your home's comfort.
If you notice signs of a wildlife infestation, such as strange noises in the attic, chewed wires or insulation, droppings, and damage to your property, give us a call at 703-904-1813 to schedule your free inspection.